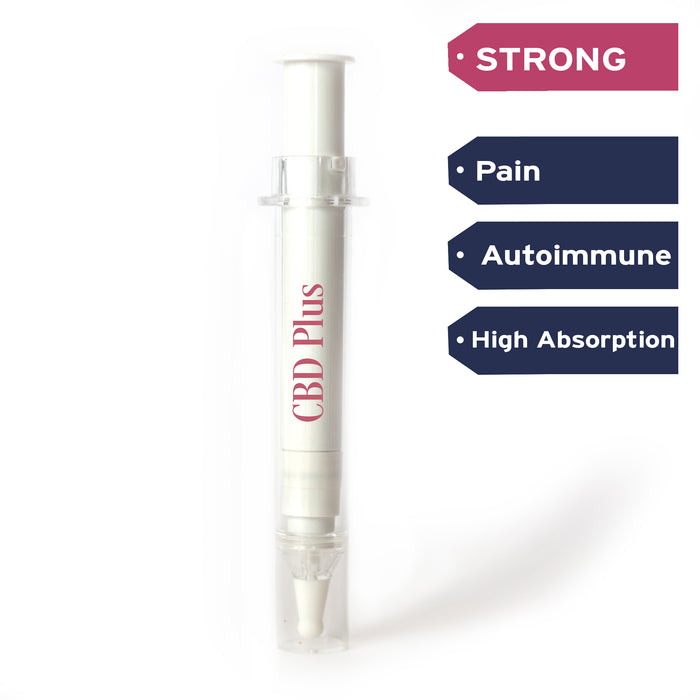 CBD Plus Airless Pump (Water-Soluble, High Strength)
*Please note we have improved the pump mechanism, preventing any leaking into the inner tube. The new pump mechanism dispenses slightly more CBD. 
10ml / 800mg
Water-Soluble 
Our CBD Plus Airless Pump is our most cost effective product. Absorption rates are very high, so you can take less CBD with a greater effect. There are 40 pumps in each pen. We recommend this product for people who need high doses of CBD. 
Each Peach & Moon CBD Plus Airless Pump contains up to 8% CBD derived from organically produced hemp plants. CBD Plus is water-soluble, which means a much higher absorption rate of CBD.  Due to the bioavailability of the CBD Plus, the effects of this 8% product are closer to the effects of an 80% product. 

Regular CBD products and cannabinoids are fats and are therefore mainly degraded by the body. As a result of this just 6-12%  of the CBD is effectively absorbed by the body. CBD Plus ensures that the ingredients are quickly and fully absorbed. 
Our CBD Plus 800mg comes in an airless pump. Each pump contains 20mg of CBD. There are 40 pumps in each pen.
Peach & Moon uses whole plant CBD extract. We feel a whole plant extract is best, because it provides what is known as the entourage effect, since other components in the plant synergise with the CBD. 
INGREDIENTS
Curcumin, Myrcene, Caryophyllene, Pinene, Limonene, Linalool, CBD, CBC, CBN and CBG, Water, Vegetable Glycerine and Triglycerides.
USAGE
Suggested serving of 1 pump per day - each pump contains 20mg of CBD. Put a pump in tea/water/smoothie or any choice of beverage. CBD Plus can also be placed directly in the mouth. CBD Plus is best used in the morning and/or early afternoon. This product will not make you 'high'. 
Remove lid and protective cover. Twist the bottom of the pen to 'open'. Push the embedded pump to release the oil.
Please note: We have improved our pen packaging which makes it easy and great to travel with.
Store at room temperature in a dark place.
 *
These products are not intended to diagnose, treat, cure or prevent any disease. All information presented here is not meant as a substitute for or alternative to information from healthcare practitioners. 
If you are pregnant, breastfeeding and/or using blood pressure reducers, you cannot use CBD. 
Please consult your healthcare professional before using any product. 
SHIPPING
Free shipping.
Our courier will deliver your order within 3-5 days to the address you provide. Please ensure there is someone there to sign for your package.