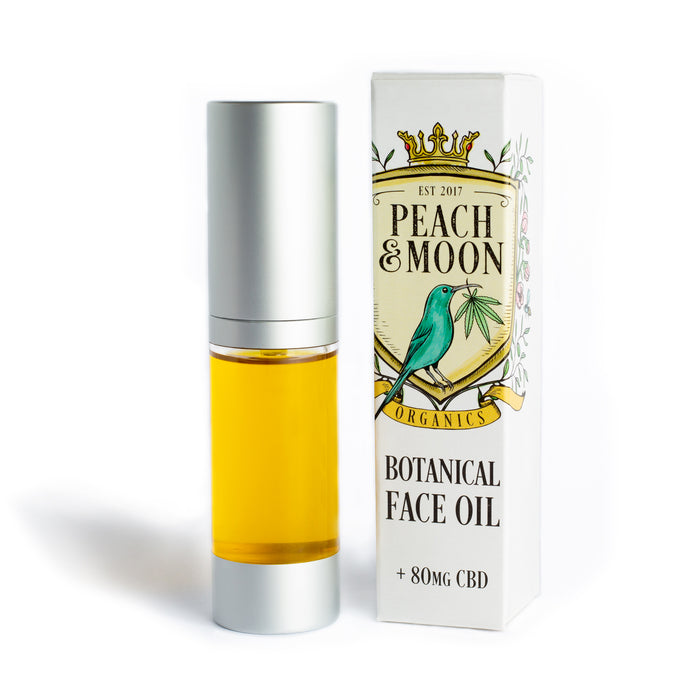 Botanical Face Oil with CBD
Leaves your complexion insanely glowy and hydrated. 
Our Peach & Moon Botanical Face Oil contains 80mg of CBD. This oil is for all skin types and it is lightweight and hardworking. 
15ml / 80mg CBD
The essential oils are all grown on our certified organic farm
What's in it?
Cannabidiol (CBD) 80mg: antioxidant and anti-inflammatory benefits helpful in treating skin concerns like inflammation, dryness and free radical damage. Reduces the production of excess sebum (great for acne). 
Squalane (plant sugar derived): an exceptional moisturiser (non-comedogenic and light-weight). Can prevent ongoing loss of hydration. 
Lavender: helps control sebum production and soothes irritation. Natural antiseptic.
Cape Snowbush: natural antiseptic.

African Chamomile: our flagship essential oil. Anti-inflammatory and helps to relieve irritants on the skin. Deeply nourishing and our most cherished essence. 

Helichrysum Splendidum: antioxidant and antibacterial.
Hemp seed oil: non-comedogenic (does not clog pores). Due to its high content of omega 3 and omega 6, hemp oil has a composition similar to skin lipids, which makes it an excellent natural emollient and moisturiser. 
How to use it?
Pump 2-3 squirts into the palm of your hand and use fingertips to gently to massage into clean skin. Allow oil to absorb fully before dressing. For extra hydration, mix a squirt or two into your daily skin cream. 
Keep the bottle in the box, out of direct sunlight. Avoid getting the oil in your eyes.