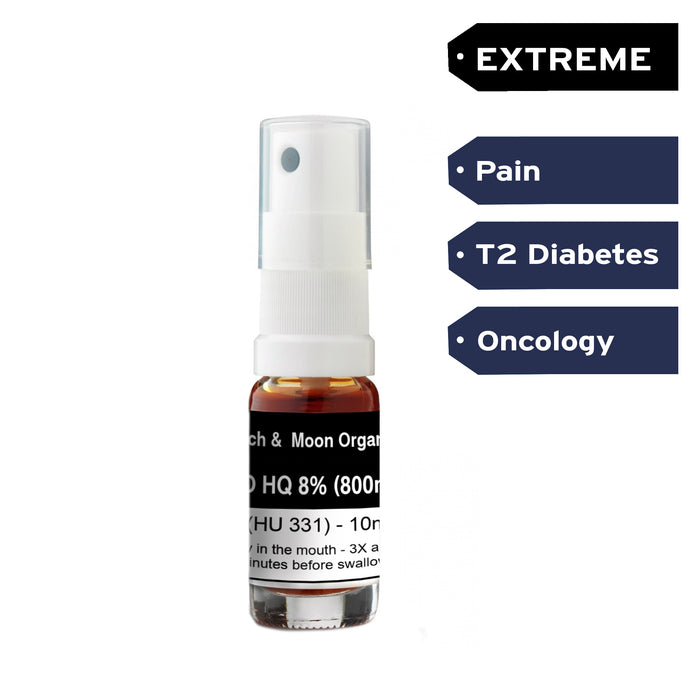 CBD HQ Oil (HU-331)
CBD HQ (Cannabidiol Hydroxy Quinone) was first discovered by Prof. Raphael Mechoulam at the Hebrew University in Jerusalem. The synthetic variant of CBD-HQ is called HU-331 (short for Hebrew University 331). CBD-HQ arises from the natural ageing process of CBD, which would ordinarily take up to 15 years. HU-331 is a new discovery, using oxygen and controlled climatic conditions to convert CBD to CBD HQ in about 3 weeks. 
10ml spray contains 8% CBD HQ (800mg). There are approximately 100 sprays in each bottle. 
For more information about CBD HQ and its effects, please research the subject and discuss with your medical professional. 
Ingredients of CBD HQ
Modified Cannabidiol oil, coco oil, terpenes (myrcene, linalool, α-pineen, β-pineen, d-limonene, β-caryophyllene)
How to use CBD HQ (Hydroxy Quinone)?
Shake well before use 
Use 1 spray in the mouth - 3 times a day
Wait 2 minutes before swallowing
Store cool
Do not exceed recommended daily dose
Do not use during pregnancy or lactation 
Please note: we hold extremely limited stock. Please enquire with us should you wish to order this product and it is not in stock. Special orders may incur additional shipping costs if we do not have any in stock.